Alaska Web Design & SEO Services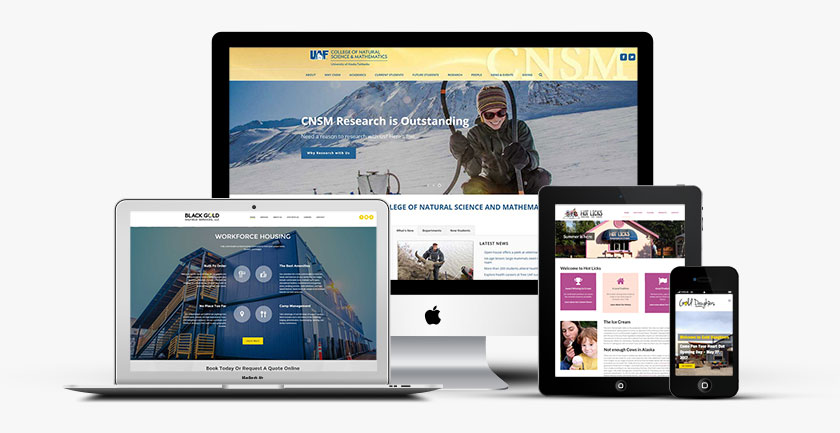 Awesome Website Design

Search Engine Optimization

Digital Marketing

Full Service Hosting

Top Rated Support
Need a New Website?
Whether your a small business, nonprofit, government agency or tour company, we can help.
Helping You Grow
Your website is your online presence and you want it to look professional. You likely also want it to attract new customers, increase leads, promote your services, get more donations or help sell your products.
Website Guarantee
We're Your Web Partner
We work with you to find solutions that address your most pressing needs. Whether you need a faster loading site with a better design, or a full e-commerce solution that helps customers make online purchases, we are here to help.
A website is more than a nice looking online brochure… it is a tool that should help your business or organization grow.
We don't make your website for you. We make it for your customers!
Want to Rank Higher?
Web 907 can help you get found in Google.
Rank Higher than Your Competition
If you are not being found in Google, then your bottom line is being effected. Ranking higher in the search engines will help your website get more traffic – which can get you more leads, more phones calls and more sales. But most websites are not setup with proper SEO (search engine optimization).
SEO Can Help You
How We Can Help
Web 907 offers custom SEO packages that can help you start ranking higher in Google. We will find the keywords (search terms) people are using the most and make sure you rank high them. We will also look at your competitors SEO and make sure that your site outperforms the competition.
Alaska Digital Marketing
Whether your in Anchorage, Juneau or Fairbanks we can help you get new customers with digital marketing.
Helping You Grow
Digital marketing is an affordable way to promote your Alaskan business. Whether you are a small business competing against a local market or a tour company advertising nationwide… we can help you:
Grow Your Business
Your digital ads will run on Google, Facebook and YouTube. We will even build you a custom landing page to help you gather new leads, sell more products or book more tours. Our digital marketing packages are affordable and completely transparent.
Featured Work
Jaffa Construction
Steve Vick
2022-09-10T09:57:11-08:00
We Make More Than Websites
We make solutions.
Trusted by Alaskan Businesses

We are thrilled with the website Web 907 developed for our business. Steve was fantastic to work with. He is very attentive, clear, analytical and creative. He designed a beautiful website that accurately portrays the tone we were looking for. Thank you!
Steve is affordable, personable, and very available. Whether it's answering a quick question or reformatting a major part of my website, he responds promptly to take care of it. Love my website!
Steve was great to work with and was able to create the exact website we wanted. Great designs, well thought out pages and content, completed in a timely manner, and a fair price. Would recommend to anyone.
SOME OF OUR AWESOME CLIENTS
There are three responses to design… yes, no and wow.
Our goal is WOW!
A Bit More About Our Main Services
We Have Services To Suit All Your Online Needs