NONPROFIT WEBSITE DESIGN
Get more donations. Sign-up volunteers. Grow your newsletter.
Affordable & Functional Nonprofit Websites
Full Featured Nonprofit Website
We can help your organization build capacity with a modern and functional online presence.
Get Online Donations
Create online donation forms, track donors, export reports, send automated thank you emails, add multiple campaigns and more.
Keep Everyone Informed
Make it easy for all members of your organization to know what is going one. Post events, recurring meetings, newsletter signup forms, add videos, click-to-call buttons and more.
Sign Up Volunteers
Use our drag-and-drop form builder to easily signup volunteers for upcoming events, fundraisers and special projects.
Premium Donation Platform
Easy to Use Online Donation Form
We install premium donation software that makes it easy for your visitors to donate to your cause. You can create donation forms for as many projects as you want. Set goals, minimum donation amounts, different donation levels and send automated thank you emails.
Donor Management
Your donation package comes with a robust donor database and reporting feature. Here you can learn who has donated, how often they donated, how much they donated and more. This software integrates with a variety of third-party systems and can export reports to Excel.
Fundraising Reports
Gain insight with real-time fundraising reports. Learn details like best performing donation campaign, top donors, total income, average donation and more.
Accept Credit Card Donations
Accept online donations with multiple payment methods and gateways – including Stripe, PayPal, Authorize.net and Square.
Increase Communication & Build Capacity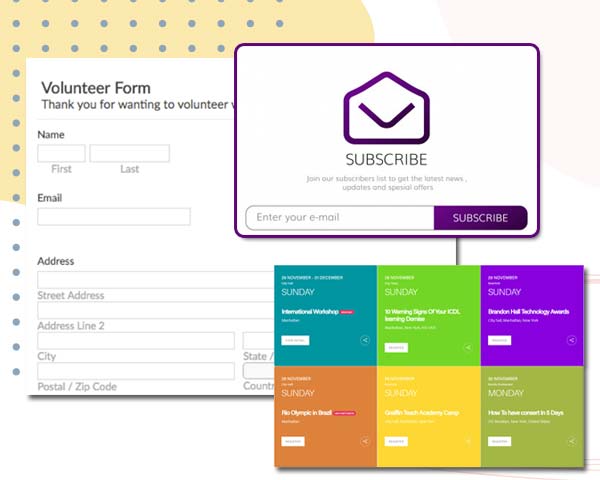 Keep Everyone Informed
Make it easy for everyone to stay informed by posting latest news, announcements, press releases and other information directly on your website.
Post Upcoming Events
Use our full-featured event calendar to post upcoming board meetings, fundraisers, live sermons, classes and programs. Even add RSVP's and ticket purchases!
Increase Your Reach
Grow your mailing list by using opt-in check boxes on your donation forms, add mailing list pop-up forms or just simple "subscribe" buttons in the footer of your website.
Your site can integrate with MailChimp, ConstantContact, aWeber and more.
Full Features & Support
There is a reason we are the top-rated web designers in Alaska.
Trusted by Nonprofits Throughout Alaska

The page they built for us is beautiful, user friendly; and best of all, they have taught us how to work with our own site so we can keep info that changes often, up to date with out the need to call them. They just do great work, that really is all you need to know.
Steve is very accommodating, patient and professional. He is affordable and willing to share his expertise. Between the work he did for me and the opportunity to learn from him, I definitely got my money's worth.
Web 907 was a tremendous support when we hit a wall trying to update our Fairbanks Library Foundation e-commerce site. Steve came through for us quickly (called on Friday evening site up Sunday evening). Web 907s fast turnaround made it possible for us to meet our launch commitment for our upcoming Library celebration.
Tell a Friend About Web 907
Nonprofit Website & Hosting Pricing
Website
Five or More Pages
Donation Platform
Events Calendar
Newsletter Sign-up Form
Latest News & Announcements
Volunteer & Contact Forms
Hosting*
Donation Platform License
Speed Optimization Plugin
Security Scans & Protection
Regular Software Updates
Routine Website Backups
Hosting & Tech Support
*Nonprofit hosting includes software licensing. Price based on software package.
Got Questions?
Just give is a call or send us an email. We are happy to help you start your website.